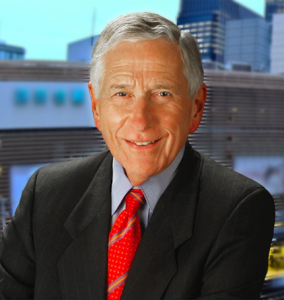 Drayton McLane, Jr. serves as chairman of the McLane Group and is the former CEO of the Houston Astros Baseball Club.  A native Texan, this acclaimed businessman, leader, and generous philanthropist, ensures the focus of all his endeavors are based upon strong Christian values and moral ethics.
The grandson of a successful entrepreneur, Drayton experienced firsthand the hard work and dedication it takes to successfully thrive in industry.  He began developing his tireless work ethic at age nine by working for his father at the family's wholesale grocery business, the McLane Company.  Mr. McLane received his Bachelor of Business Administration degree from Baylor University in 1958 and his Master of Business Administration degree from Michigan State University in 1959.  Upon completion of his formal education, Drayton came back to begin working at the family business loading trucks on the second shift.  He worked his way up and by earning the respect and admiration of his co-workers, he became president and CEO of the company in 1964 and held these positions for thirty years.
During his tenure, he propelled the McLane Company into a $19 billion dollar company, achieving an average growth rate of 30 percent per year.  Following the McLane Company's merger with Wal-Mart, Inc. in 1990, he became vice-chairman of Wal-Mart while maintaining his position at the McLane Company.  After playing key roles in each of these companies' growth and productivity, he resigned in order to devote more time to the McLane Group, a parent company consisting of family owned companies operating throughout the world, which until November of 2011 included the Houston Astros where he served as Chairman and CEO.  Drayton McLane completed his nineteenth season with the Astros in 2011 when he sold the team.  Over the years, their philosophy remained consistent – bring home a World Series championship to Houston and make a positive difference in the community.  They were unable to bring home a championship, but they were the first Texas team to make it to the World Series and they also made a very positive difference in the community.